Call for Entries: 2022 Beijing International PSA Competition
2022-07-12 16:42:57 来源: 中国广告协会
01. About the Competition
The Beijing International Public Service Advertising Conference, founded in 2019, will have its 4th edition this year.
The Conference, jointly hosted by the Publicity Department of the Beijing Municipal Committee and the Beijing Municipal Radio and Television Bureau, focuses on public service advertising and responsible marketing, aiming to set up an international insights-sharing and knowhow-learning platform to promote the public service advertising to play a more active role and better serve for the economic and social development.
The Creativity Competition, a major part of the Conference 2022, now opens for PSAs entries FOR FREE.
02. Entry Requirements
2.1 The entry should be original work(s), should have positive energy and unique creativity, and also should express sincere emotions. Entries applying 5G+4K/8K and other new and high-tech would be most welcome.
2.2 The entry should be well-produced, elaborate and delicate, and should have well-organized structure and touching and heart-warming force.
2.3 Any entry violating the Advertising Law of the People's Republic of China and relevant laws and regulations will not be accepted.
03. Key Dates
Submission deadline: September 30, 2022.
All entries should be submitted via Email by 23:59 P.M. September 30, 2022 [CST time]. Submissions received after this time will be not accepted by the Competition.
Primary and final Judging: October 1-31, 2022
Winners announced : December 2022
04. Types & Categories
The Competition sets two Types for entry submissions:

* A certification that the entry work has been released is required when submitting into any category under the Published Type.
05. Entry Specifications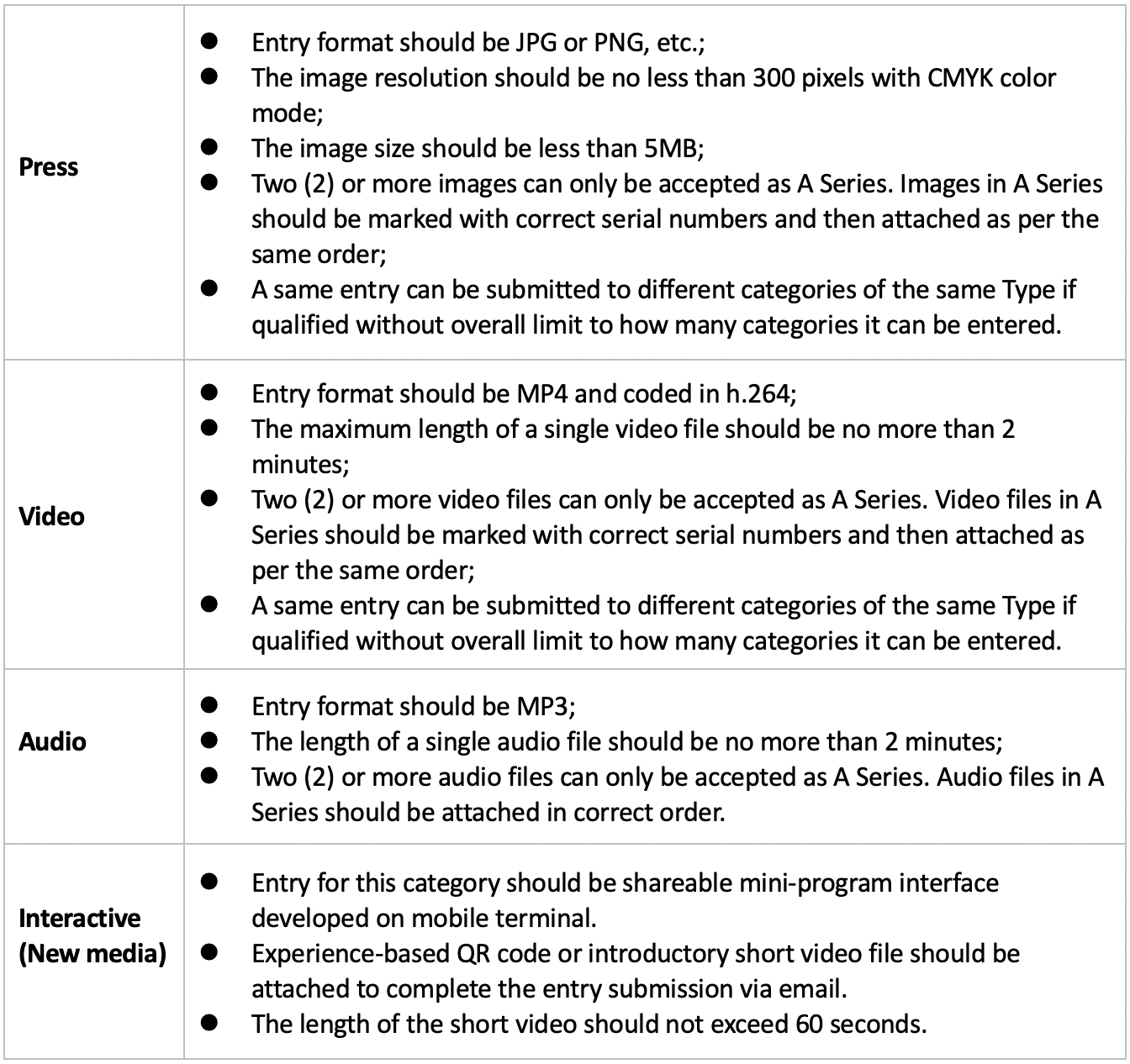 06. How to Submit
6.1 All entries shall be submitted via email to training@china-caa.org.
6.2 A submission will only be considered Complete and Valid with: (i) a subject, (ii) the email text, and (iii) attached entry file(s), and (iv) a completely filled Entry Form.
The submission email should be subjected as "2022 PSA Competition + Entry Title".
In the email text, a full list of attachments in correct order is required, and the total number of attachments shall be consistent with that of the list.
6.3 Entry files submitted via a link will not be accepted and the submission will be deemed invalid.
6.4 The organizing committee will reply within 3 Working Days upon receiving the submission email to confirm whether the submission is successful.
07. Important Notes
7.1 No information of the entry submitting company/organization should appear on the
submitted entry (entries);
7.2 Entry files should be uploaded as per requested size (or length) for each category;
7.3 The entry should be double-checked before submission, and cannot be modified after submission;
7.4 Any company/organization or individual who has been confirmed with plagiarism by the organizing committee after review and verification will be disqualified from the competition of this year and following years;
7.5 Each entry can only be submitted by a single submitting party and should be submitted by the copyright owner in principle. An agency or other authorized company/organization who signs up for the competition should obtain the consent of the copyright owner in advance. In case of copyright disputes, the responsibility should be borne by the entry submitting party, and award(s) awarded will be taken back;
7.6 All legal issues related to portrait right, copyright, trademark right and the right of name should be borne by the entry submitting party;
7.7 All entries will not be returned. The competition organizing committee has the right to publicize, exhibit, edit, and publish the entries.
08. Awards & Rewards
8.1 Awards of Five (5) grades are set in both Published and Unpublished Types:
Grand Prize: certificate+ bonus USD 750;
Gold Award: certificate+ bonus USD 450;
Silver Award: certificate+ bonus USD 300;
Bronze Award: certificate+ bonus USD 150;
Recognition Award: certificate.
8.2 Winning entries will be displayed on the "Excellent PSAs Exhibition" of the 2022 Beijing International Public Service Advertisement Conference, and be issued with certificates at the "Public Service Gala" during the Conference.
8.3 Winners information will be published on the official website of the Beijing Municipal Radio and Television Bureau.
09. Contact Us
Ms. DONG Jiayu
Competition Team, Organizing Committee
Email: training@china-caa.org
Tel: +86-10-65924283
Downlowd Entry Kit and Entry Form.